Around the World Backpackers provides a sanctuary from loud, large hostels. We only have 4 bed dorms and private rooms. Unlimited free wifi, a large back garden with BBQ facilities, its a great place to meet people from all around the world! Kick back, relax and enjoy! We are agents for Intercity bus, Super shuttle and we can book your tours for you while staying in Christchurch. With a history as being nominated as one of the best small hostels in the world we would love to see you soon!
stay@aroundtheworld.co.nz
Phone +64 3 365 4363
Visit Around the World Backpackers Website
What do the guests say?
Guests are very happy with the cleanliness of the hostel and the amenities supplied. The computer rooms and free unlimited wifi make it easy for all travelers to connect to the internet.
Barbadoes street is within walking distance of many great places to eat and see. You can also hire a bike from the hostel and see more of Christchurch, outside the CBD.
90%
Compliment the cleanliness
97%
Say the location is great
95%
Say the price is great
93%
Would recommend to a friend
What are the rooms like?
With a maximum capacity of 36 guests, Around the World is a cosy backpackers and great place to meet travelers. Our room types are:
2 bed dorm
4 bed dorm
Private double room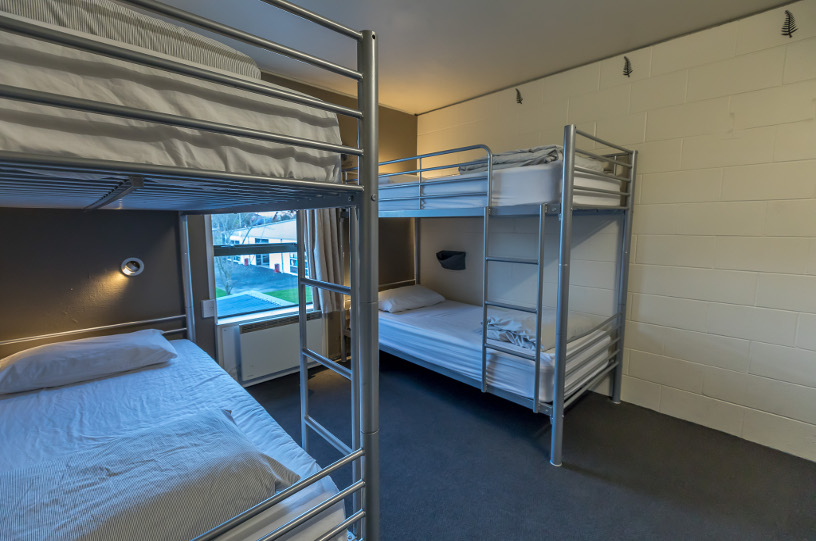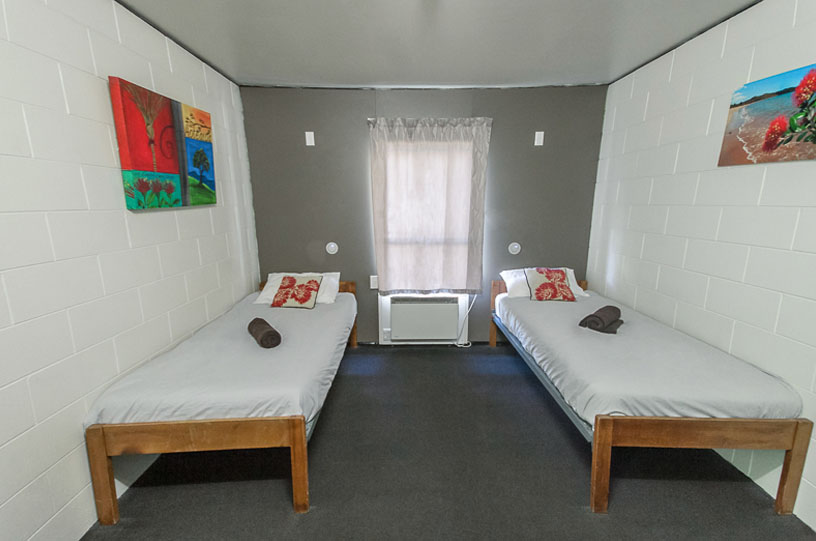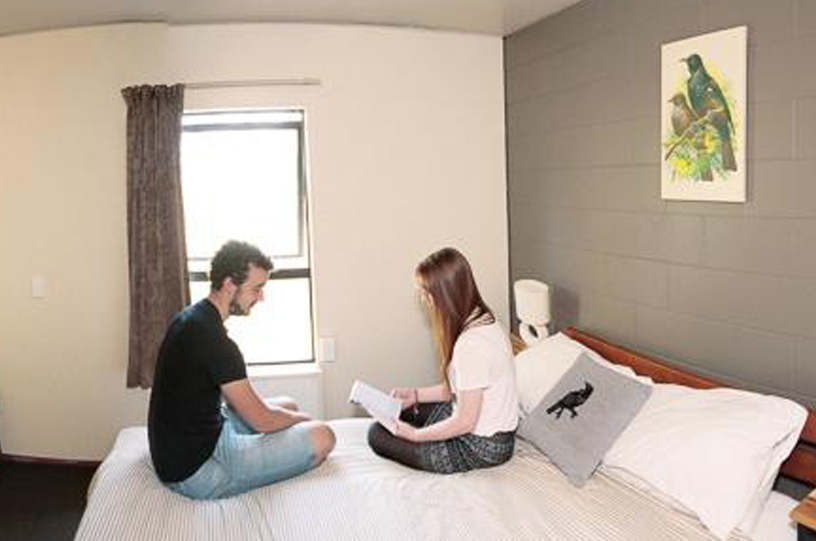 (close)
Hostel amenities
Along with bathrooms and common room – these are the other amenities and features of Around the World Backpackers. If you have any questions, let us know.
| | |
| --- | --- |
| | Parking – car parks are available in front of the hostel or outside on the street (free as well). |
| | Smoking – rooms are smoke-free, you can smoke outside on the balcony or courtyard. |
| | Kitchen – large, fully equipped communal kitchen for your self-service. |
| | Laundry – laundry rooms and drying on-site. Laundry powder available at reception. |
| | Storage – storage available at reception for luggage and personal goods. |
| | Internet – free unlimited WiFi is available throughout the hostel and computers in the common room. |
| | Access – wheelchair access is throughout the hostel. |
Frequently Asked Questions
How far is your hostel from the City centre?
We are a 10-15 minute walk to the central City and Central Bus Station. We've got a bus stop from just around the corner if you would like to take the bus.
We also have 2 bikes available to hire, these bikes are ideal for getting around the city. These bikes come with a basket, helmet and lock. $10 for 1 hour $18 for half day (4 hours) $25 for full day (8 hours), contact the hostel to book.
What is a good place to get some food?
We just discovered the Little High Eatery and are big fans! It is a new and modern marketplace with 8 different local businesses. From wood fired pizza to sushi and don't forget to try an amazing Bacon Brothers burger. It's located on 181 High Street, about a 10-15 minute walk from ATW. www.littlehigh.co.nz
Beside Little High there are A LOT of restaurants and cafés in Christchurch to choose from.
Pomeroy's, Comfy tavern with a traditional, UK-style vibe offering a vast beer selection & inventive pub grub is just around the corner from us. If you want to grab a quick something, Subway is only a 5 min walk away and Dominos Pizza delivers to our door.
What is the nearest supermarket?
On Moorhouse Avenue you'll find a PAK'nSAVE and Countdown next to each other, this is about a 20 minute walk away from the hostel and there is also plenty of parking available. There is a New World in the South City mall, about a 25 minute walk away.
A smaller supermarket, SuperValue, is a 10 min walk away and Piko Whole foods is just around the corner from us.
Is there free parking at your hostel?
Yes, we have 6 off street parking spots available (on a first-in, first-served basis). Parking in our off street parking is at your own risk, do not leave any valuables in your car and keep it locked. There is also plenty of free on street parking available on Barbadoes Street, just bear in mind it's a one way street. www.ccc.govt.nz/transport/parking
How do I get from the airport to Around the World Backpackers?
The most convenient way from the airport is to catch one of the shuttles waiting just outside the arrival hall. We recommend the company "Super Shuttles", they have a 24h service and drop you off right in front of our hostel for a fixed price of $24 for the first person, $5 for every other person. We can also book this for you in advance! Please contact Around the World for your shuttle booking.
If you want to save some money you can also catch the public bus at the airport ($8.50) or just outside of the airport across the road from the Sudima Hotel ($4.00). Get off the bus at the Christchurch Bus Interchange, we are about 15 min away by foot or you can hop on the Yellow or Orange line (using the same bus ticket) and get off at Stop 46339, Gloucester St near Barbadoes St. www.metroinfo.co.nz
Can I Check In after 9pm?
Yes you can! If you're arriving after 9PM, we will need to email you our late arrival instructions. You will get a code for the front door and your key will be on the reception desk with your name on it, along with your room number and our WIFI password. If you cannot get into the hostel, please ring the front door bell for the Live In staff.
What is there to do in Christchurch?
· Visit a museum or art gallery.
· Go shopping at the Re-Start mall.
· Stroll through the Botanical Gardens.
· See the street art. Christchurch has some amazing art works for everyone to see. Don't know where to look? Have a look at https://christchurchstreetart.co.nz/ and follow the interactive map around the city centre.
· Visit one of the local markets.
· https://www.pocketsofawesome.co.nz/things-to-do/explore-the-city/top-design-and-architecture-spots-in-christchurch/
Do you have a place to store luggage?
Yes, we have a shared luggage room. Which is free and available to all guests to use if you have to wait for some hours after checking out at 10am. We can also store luggage for a few days, we do require a booking made for your return date.
Do you offer a breakfast service?
No we do not currently offer breakfast but do offer free coffee, tea and sugar. There is a Café called "Beat Street Café" which offers great affordable breakfast options. As well as great Hot Drinks. And is literally a 10 second walk away!
Can I use Union Pay at your hostel?
Yes you most definitely can use Union Pay as payment at our Hostel. Check also our Chinese Page on our website.
Hostel location
Around the World is located at 314 Barbadoes Street, Christchurch 8011. With this central location, you are within walking distance of many great spots.
Within 5 minutes of walking:
Bus stop on Gloucester Street
Beat Street Cafe
Pomeroy's Old Brewery Inn
Margaret Mahy Family Playground
Piko Wholefoods
Within 15 minutes of walking:
Christchurch Bus Interchange
Re:Start Mall
Cathedral Square
Christchurch Casino
New Regent Street
SuperValue Supermarket