Dusky Lodge & Backpackers is Kaikoura's largest hostel welcoming budget travelers, adventurers and groups. We offer a clean homely environment with a choice of 4,6,8,10 bed bunk rooms, doubles, twins, triples, en-suite and family rooms with heaters in all rooms. Bed linen and pillows are provided and unlimited free wifi. We have 3 large kitchens fully equipped as well as BBQ's on the decks free to use. We are agents for Intercity bus and we can book all your tours at our information desk. Our outdoor heated pool and spa are open for summer!
info@duskylodgebackpackers.co.nz
Phone +6433195959
Visit Dusky Lodge Backpackers Website
What do the guests say?
Guests are happy with the location and facilities of the hostel. Free and Unlimited WiFi make it easy for all travelers to connect to the internet.
Dusky Lodge is within walking distance of many great places to eat and see.
90%
Compliment the cleanliness
97%
Say the location is great
95%
Say the price is great
93%
Would recommend to a friend
What are the rooms like?
With a maximum capacity of 140 guests, Dusky Lodge Backpackers is a large backpackers and great place to meet travelers. Our room types are:
4 bed dorm
6 bed dorm
8 bed dorm
10 bed dorm
12 bed dorm
Twin room
Private room (shared facilities)
Private double (ensuite)
Private twin (ensuite)
Private triple (ensuite)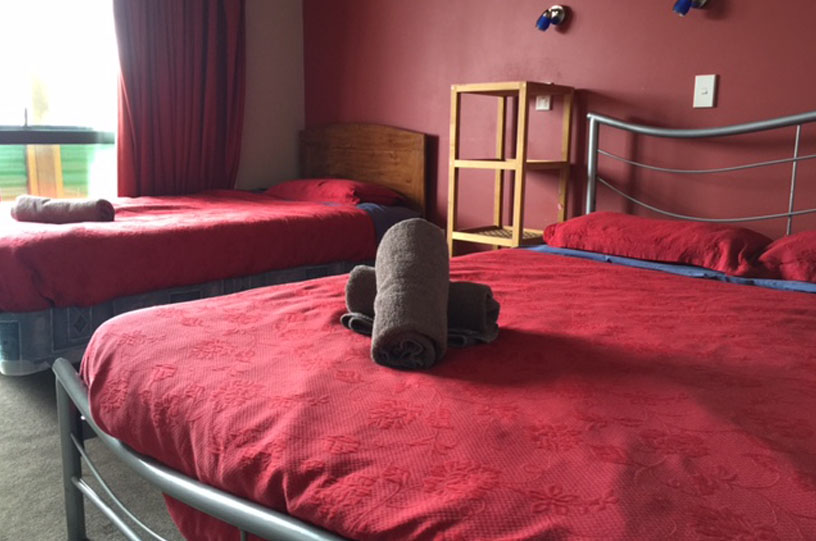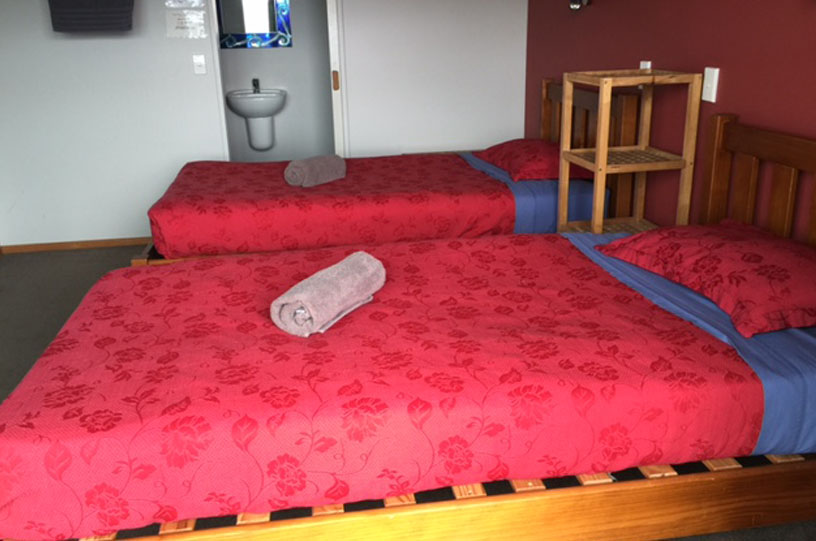 (close)
Hostel amenities
Along with bathrooms and common room – these are the other amenities and features of Dusky Lodge Backpackers. If you have any questions, let us know.
| | |
| --- | --- |
| | Parking – car parks are available in front of the hostel or outside on the street (free as well). |
| | Smoking – rooms are smoke-free, you can smoke outside on the balcony or courtyard. |
| | Kitchen – large, fully equipped communal kitchen for your self-service. |
| | Storage – storage available at reception for luggage and personal goods. |
| | Internet – free unlimited WiFi is available throughout the hostel and computers in the common room. |
| | Access – wheelchair access is throughout the hostel. |
| | Swimming pool – we have a large salt water pool outdoors and spa pool. (CLOSED DUE TO EARTHQUAKE REPAIRS) |
Frequently Asked Questions
Can we go Whale Watching?
Yes! You can go whale watching on a boat with whale watch Kaikoura or jump a plane or helicopter to see these beautiful creatures. Our helpful staff at reception can help you book these.
Yes! WIFI is free and unlimited!!!!! It is available throughout the building and bedrooms. Even on the deck so you can skype home and make everyone jealous with the view!
Yes! We are very lucky to have ample parking behind and in front of our building.
Where can we eat crayfish?
There are lots of options for eating this in Kaikoura from the restaurants in town to the famous seafood BBQ by the beach. If you are feeling more adventurous you can go fishing or diving and catch your own.
What can you do on a rainy day in Kaikoura?
Yes! It can rain even in this bit of paradise we call home. We say don't let it stop you. The views here can be more dramatic with bad weather. The wildlife here are not discouraged with bad weather and you can still see the seals and other wildlife. If you really want to stay dry you can visit the new Kaikoura Museum.
Yes!! There is a big New World located a one Minute drive or a 10 Minute walk from the Hostel.
What free Activities are there?
Kaikoura is beautiful so even a walk on the beach is worthwhile. There are a few spectacular hikes around. The most popular is the Kaikoura Peninsula walkway. This is a 3.5 hour loop walk from the Hostel. It takes you all along the beachfront, to visit the seals at the seal colony, past the seafood bbq and up along the stunning peninsula then back to the hostel. Another popular activity is going up to the lookout at sunrise or sunset. The views are hard to beat.
Where is Ohau with the Baby seals in the waterfall?
Ohau is a very special place where baby seals can be found playing in a waterfall. Unfortunately this area is currently inaccessible due to earthquake damaged roads. We hear the road will re-open in December 2017 and hopefully access will be restored to this natural wonder shortly after. Don't worry we have confirmation the seals are still there and having fun.
Are the roads to Kaikoura open?
Since the November 2016 earthquake travel to Kaikoura has been a little different. Currently you can access us from the south on the Inland road 24/7 and on SHI from Christchurch from Friday to Monday during daytime hours until 6pm. SH1 North from Picton is currently closed but is set to re-open in December 2017.
Please keep updated with the NZTA at https://www.nzta.govt.nz/traffic-and- travel-information/
Can I use Union Pay at your hostel?
Yes you most definitely can use Union Pay as payment at our Hostel. Check also our Chinese Page on our website.
Can I Check In after 9pm?
Yes you can! If you're arriving after 9PM, we will need to email you our late arrival instructions. You will get a code for the front door and your key will be on the reception desk with your name on it, along with your room number and our WIFI password. If you cannot get into the hostel, please ring the front door bell for the Night Manager.
Hostel location
Dusky Lodge Backpackers is located at 67 Beach Rd, Kaikoura 7300. With this central location, you are within walking distance of many great spots.
Within 5 minutes of walking:
Beach access
Mini Golf
Emporium Brewing
Take Away / Eat in food
New World Supermarket
Within 15 minutes of walking:
Whale Watch Kaikoura
I-Site
Bean Me Up Coffee Cart
Whaler & Grouper Pubs
Post Office (Paper Plus)