Our vision is simply to make it the most popular hostel in town which we have by providing a clean, modern, yet still inviting hostel with facilities not usually found in inner city hostels. We offer 4,6,8 bed dorms, private and family rooms. Unlimited Free wifi throughout the hostel and enjoy the unique climbing wall that you can view from reception, or give it a go! We are also agents for Intercity Bus and Super shuttle, book all your tours at our tour desk, ask about the special discounts if you book through us!
bookings@rocksolidrotorua.co.nz
Phone: +64 7 282 2053
Visit Rock Solid Backpackers Website
What do the guests say?
Guests are very happy with the cleanliness of the hostel and the amenities supplied. The computer rooms and free unlimited WiFi make it easy for all travelers to connect to the internet.
Rock Solid Backpackers is within walking distance of many great places to eat and see.
90%
Compliment the cleanliness
97%
Say the location is great
95%
Say the price is great
93%
Would recommend to a friend
What are the rooms like?
With a maximum capacity of 90 guests, Rock Solid Backpackers is a large backpackers and great place to meet travelers. Our room types are:
4 bed dorm
6 bed dorm
8 bed dorm
Family room
Private double room (shared facilities)
Private twin room (shared facilities)
Private double room (ensuite)
Private twin room (ensuite)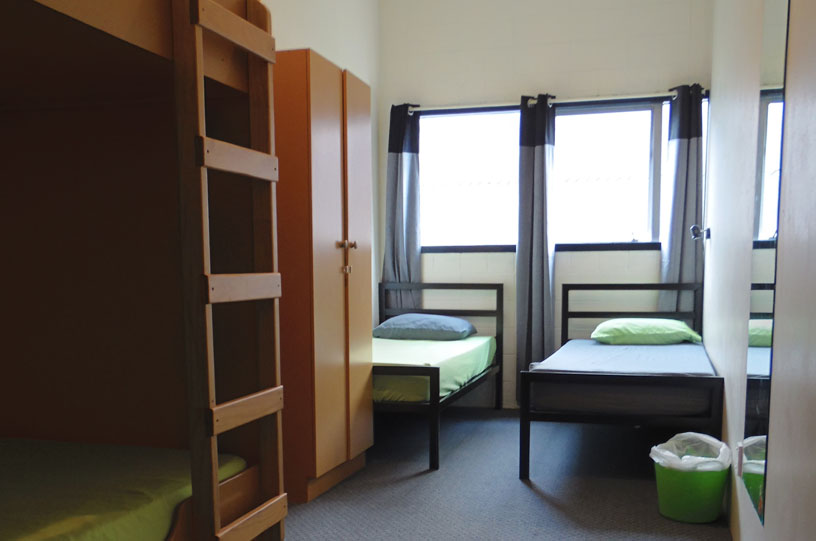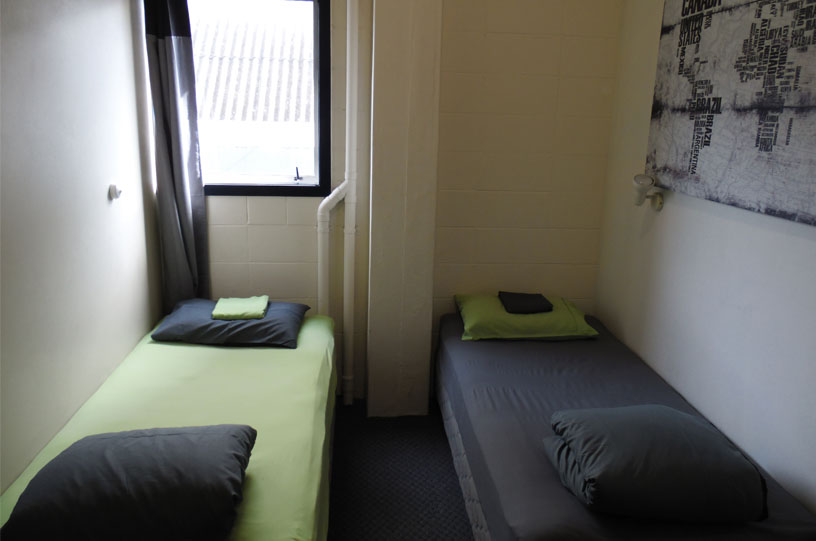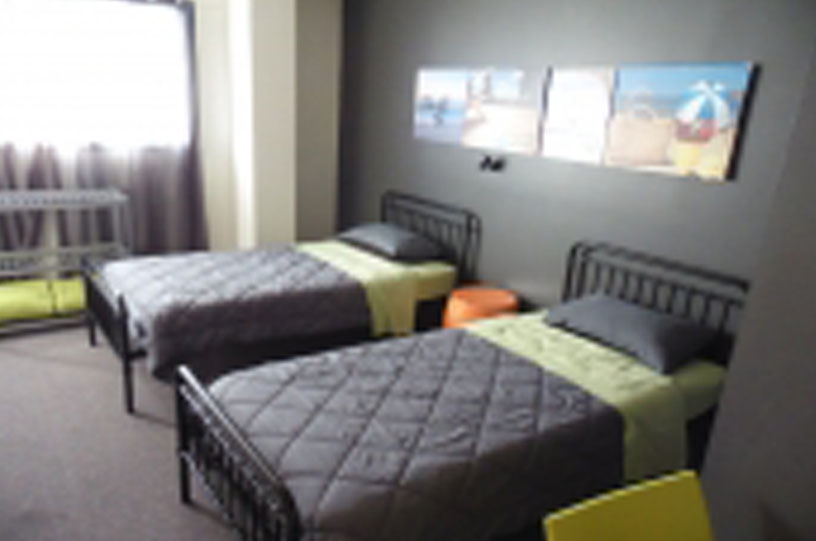 (close)
Hostel amenities
Along with bathrooms and common room – these are the other amenities and features of Rock Solid Backpackers. If you have any questions, let us know.
| | |
| --- | --- |
| | Parking – car parks are available in front of the hostel or outside on the street (free as well). |
| | Smoking – rooms are smoke-free, you can smoke outside on the balcony or courtyard. |
| | Kitchen – large, fully equipped communal kitchen for your self-service. |
| | Laundry – laundry rooms and drying on-site. Laundry powder available at reception. |
| | Storage – storage available at reception for luggage and personal goods. |
| | Access – wheelchair access is throughout the hostel. |
| | Conference rooms – we have large conference rooms available for conferences. |
Frequently Asked Questions
Do you have private parking?
We do not have our own car park, but you can park for free just a short 5-minute walk from the hostel or for free right outside the hostel between 5pm-9am & free on weekends after 12pm Saturday!
Is the climbing wall included in your hostel?
The Wall is not part of Rock Solid. However, if you do wish to do some climbing while staying with us you can get a great discount paying just $12.50 for a whole day, the price includes shoes, chalk and a harness! The only thing you need take is a climbing buddy to belay you unless you wish to do boldering. If you aren't keen on climbing yourself, you can take a seat in our reception lounge and have front row seats to watch others!
Just make sure you have someone to help and belay you unless you are happy to do bouldering. And if you're afraid of heights, don't worry you can enjoy a magnificent view of the wall from our hostel window
There are many options surrounding us for breakfast, lunch and dinner!
If you are looking for something quick, easy and cheap then McDonalds, Pizza Hut and Burger King are all within a 5-minute walk from the hostel.
If you want to try a 'Hangi' while you are here (traditional Maori cooked meal) check out Kiwi Kai.
Looking for dinner? Eat Streat is located just 10 minutes walk away from the hostel and has everything from steak, Thai, Indian, Italian, burger, fish and chips and much more!
The Pig & Whistle is Rotorua's oldest pub! A great spot for lunch, dinner or just a drink! Located 5 minutes walk away from us. Grab a $5 off voucher from reception to use on food or drink!
You can also ask our friendly staff on reception for recommendations to help make your decision easier!
If you are on a budget, don't worry there are also cheap and tasty places to dine at. Don't forget to check out the happy hours.
Try Ali baba a Turkish restaurant, if you keen to try a Hangi (traditional meal) try Kiwi Kai. Search up the website → https://www.rotoruanz.com/visit/dining-retail/eat- drink/restaurants to help make you decision! And if you are heading to Rotorua on a Tuesday make sure you try going to Abracadabra since its taco Tuesday all day! Only $6 and on Wednesday it's dessert night!
Where are the nearest supermarkets?
Pak'n'save is located just 3 minutes walk from the hostel and is open from 7:30am to 10:00pm. There is also Countdown located just behind Pak'n'save and is open from 6:00am to Midnight. (Both on Fenton St).
Are there hot pools/geothermal parks close by and are they free?
Just a short 10-15- minute walk from the hostel is Kuirau Park which is New Zealand's only free geothermal public park which features beautiful gardens, a crater lake, mud pools, hot springs, free thermal foot baths, BBQs and picnic tables, children's playground and a food market held every Saturday from 6am to 1pm.
You also can take a walk around Sulphur Point to see more geothermal activity for free! The walk starts just next the the Polynesian Spa and finishes at the Lakefront.
There are also other geothermal parks you can visit around Rotorua, just ask our friendly staff on reception for advice!
If you want to swim and relax in some hot pools and have a car you can drive to Kerosene Creek or Hot & Cold which are both free, natural hot pools! They are roughly a 25-minute drive away.
If you do not have a car but wish to visit hot pools the Polynesian Spa is a great option for you! Just 5 minutes walk from the hostel, the Polynesian Spa offers many different pools with different temperatures and has a great view over Lake Rotorua! They are also open until 11:00pm everyday!
Can you book activities directly through the hostel?
Absolutely! This is something we encourage our guests to do as we have many awesome discounts available for a wide range of activities here in Rotorua!
Our hosts on the reception desk are more than happy to help plan your activities while staying in Rotorua and have great knowledge on the area to give you the best suggestions suited to your taste!
We also have some great discounts which we can provide on a wide range of the activities so be sure to speak to us first before booking anything!
What are the top things to do and see in Rotorua?
Maori Culture
Geothermal Parks
Sulphur Spas
Redwoods forest
Adrenaline Activities (rafting, zorb, jet boat, canopy tours, velocity valley)
The Luge at Skyline
The Night Market (every Thursday from 5pm
Can I use the hostel facilities after checking out at 10am?
Our guests are more than welcome to stay in our reception lounge after checking out and use our free facilities (pool table, ping pong, xbox, movies, computers and wifi).
We also have a restroom located on reception level and a free luggage & bike storage in reception for our guests to use, please provide your own padlock if you wish to lock your belongings in the wardrobes provided.
We do not allow checked out guests to return upstairs after 10am to use the showers and kitchen but if you wish to heat up food or refill your water bottles our staff on reception can help you with that.
Is it possible to check in after 10pm and check out later than 10am?
Our reception hours are 8:00am to 10:00pm daily. If you have made a booking with us and are unable to arrive before 10pm it may be possible to arrange a late check in with our night manager. Always contact us in advance to ask for a late check in.
Check out time is 10am. We do not offer late check out for guests. If you wish to extend your stay you can do so at reception before 10am.
I don't have a car, what is the best way to travel in Rotorua?
The hostel is located in Rotorua city centre meaning we are within a short walk to supermarkets, cafes, restaurants, bars, shops, library, i-site, Lakefront etc. If you wish to travel outside the city centre, then check out the local buses www.baybus.co.nz
If you have booked onto activities that are based outside of the city centre don't worry, a lot of the activity operators offer free pickups from the city centre, if you need a pick up make sure you ask our reception staff to help you organise this.
If you have a flight to or from Rotorua Airport we can book a Supershuttle for you, just make sure you contact us in advance to organise this.
Our hostel is also an Intercity agent meaning we can book your intercity buses leaving Rotorua or to anywhere in the north or South Island! Ask our reception staff for help!
How can I pay for my stay?
You have a few options for payment:
Pay cash on arrival
Pay with a New Zealand card (eftpos)
Pay with international Visa & Mastercard cards with an additional fee of 2.5%
For our Chinese guests, you can pay by Union Pay or Ali Pay
Pay with Apple Pay
You can also request a pre-payment before you arrive at our hostel. If you want to pre-pay for your stay you will need to contact us by email or phone.
Hostel location
Rock Solid Backpackers is located at 1140 Hinemoa St, Rotorua 3010.With this central location, you are within walking distance of many great spots.
Within 5 minutes of walking:
Polynesian Spa
Pak'nSave Supermarket
Coffee Shops
ATM machines
Post Office
Tours & Activities pick up point
Within 15 minutes of walking:
I-Site
Lake Front
Library
Central Mall Shopping Centre
Eat Street